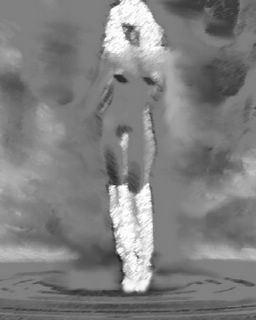 Lot's Wife (Hourglass Eyes)
"But his wife looked back from behind him, and she became a pillar of salt."
--Genesis 19:26
"Of whose wickedness even to this day the waste land that smoketh is a testimony, and plants bearing fruit that never come to ripeness: and a standing pillar of salt is a monument of an unbelieving soul."
--Wisdom of Solomon 10:7
Time sifts through her veins;
she is the broken hourglass
that has seen God.
She bleeds salt from
sandblasted stigmatas
and cries sand from
ever open eyes.
Parched parted lips reveal
a scorpion's tail
that strikes her throat
with every attempt to speak.
The wind scatters her
yet she cannot forget herself;
her consciousness spreads
with each windborne grain
until she envelopes humanity
and swallows their sin.
She is an ever-eroding
warning from God
--that I sprinkle on my food.