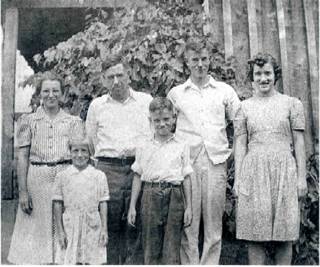 This is a picture of my Grandma Nellie, Grandpa Denzil, Uncle Fay, Mother, Aunt Doris, and Uncle Ted (left to right back row then front).
Glass Ghosts
"These lovely lamps, these windows of the soul."
--Guillaume de Salluste Du Bartas (1544-1590)
Lenses from Grandfather's bifocals
were ground into sand.
Now they sift through a
perpetual glass prison
in an hourglass heirloom.
Upon death,
the living grind glass
and add vision to the timepiece
so the rest of the chain
can see glints of stray light
and insight from
ancient eyes
that flash into
young pupils.
Each contribution
lengthens time
as each old ghost
lends a hand
to the living.